Meet Our Staff: Tomas Chavez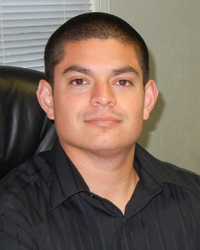 Specializing in professional and executive recruitment, Tomas Chavez joined the Sequoia Personnel Services Inc. team in 2006 as a personnel consultant to help provide a high standard of quality service in local organizations. Tomas now handles all employment placement types, managing the temporary side of the business and also permanent placements. Using his knowledge of the North Coast market and his background in management and administration, he is driven to find the top candidates that meet the needs of each client's workforce.
Originally from Hesperia, Tomas came to Humboldt County in 2000 to earn his bachelor's degree in business administration. Before joining Sequoia Personnel Services Inc., he served as the assistant general manager at Best Western Inn in Arcata. As a personnel consultant, he helps businesses find the qualified staff members they need to flourish in Humboldt, Del Norte and Mendocino counties.
You can often find Tomas engaging with local businesses at Eureka Chamber of Commerce mixers and other local business events, so don't hesitate to say hello! In his off time, Tomas enjoys spending time with his wife Heidi and their son Cruz in McKinleyville and is an avid San Francisco '49ers fan.
The information provided in this blog is intended for general information purposes only. Readers should seek the help of an HR professional for guidance on specific issues.