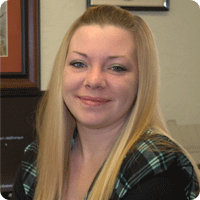 Lacie Handley is the first person job-seekers meet at Sequoia Personnel Services. She's the phone answering, front counter greeting, she's-the-glue team member that every operation needs to keep it all together.  She says the best part of her job is the people she works with.
Starting at Sequoia as a temporary employee herself, Lacie completely gets what it is like to be the person looking for a new job. When asked what she most wants people seeking work to know, she responds without hesitation: "We don't charge the candidates…our services are free to every job seeker!"
Born and raised in Humboldt County, Lacie graduated from McKinleyville High. She served in half a dozen SPS temp assignments in her late teens and early 20's. Somewhere along the line, she starting picking up part-time work in the SPS offices. When long-time employee Charlotte Jackson retired earlier this year, Lacie, like many people who temp for Sequoia, was ready to step into those permanent, full-time shoes.
She enjoys her big family, including her fiancée Michael, two sisters and three brothers. Her parents are also here in Humboldt (and mom Katy also works for Sequoia Personnel). Lacie describes her daughter Malia, who just turned three years old, as "my life." Lacie looks forward to the holiday season with this big group, and she says she hopes for a winter storm that knocks out the power and causes the whole big bunch to huddle around a board game and candles.
A big part of her job is to help people navigate the system, answer questions with a smile, handle the paperwork and get appointments with the right people here.
If you  know someone who might want to seek a new position, send them in to meet Lacie, and let Sequoia Personnel Services help your friend or colleague find the right job for them.