By Michael Kraft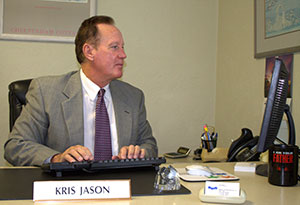 Kris Jason's office is just down the stairs from mine. When he gets enthusiastic–this happens often–I can hear him blending two of his professional lives.
Years ago, Kris was a college basketball coach in a pretty good system. Among his mentors was John Wooden…yes, that John Wooden, the one with 10 NCAA national championships in a 12-year run at UCLA. Through Wooden, he got to know other coaching legends, such as Tom Landry, who guided the Dallas Cowboys to their first Super Bowl championships, and Walt Hazzard, to whom Kris served as Assistant Coach at Compton Community College, then Chapman University and then UCLA.
Kris has worked with lots of basketball players that you may recognize. When I learned this, I mentioned that former Indiana Pacers star Reggie Miller and I went to the same high school. He was a little younger. Reggie's sister Cheryl was in the year after me, she of the WNBA, Olympic gold medal and scoring 105 points in a single high school game. Kris knew the whole family, mom, dad, Cheryl, Reggie and major league baseball player Daryl. He's been to their house. (My invitation must have gotten lost.)
Upon leaving UCLA, Kris went on to to the University of Hawaii, and served as an Assistant Coach and Recruiting Coordinator for four years.
Life intervened, as it does, and Kris came to the North Coast to care for his mother in her final year of life. He talked with Coach Wooden about it, who reminded Kris that the order of priority is this: 1) faith, 2) family, 3) everything else, including work and basketball. Those priorities stay with Kris today, and his favorite role in life is proud father.
During his time in Eureka, Kris took a job in the local UPS operation. This took him eventually to Sacramento, Stockton, Fort Lauderdale, Florida and Raleigh, North Carolina. At UPS, Kris was a customer of Labor Finders, a staffing company, and Kris met another mentor, eventually moving into the staffing business. He served as regional manager over multiple branches in North Carolina and then in and around the District of Columbia.
Returning to Humboldt, again for family reasons, Kris joined Sequoia Personnel Services last year. For a while, he was our secret weapon.
The secret's out now. Kris has substantially built our presence in the labor markets: construction, store opening crews, and other hands-on work. He has won market share from the competition. In part, he's accomplished this through outstanding customer service; for example; I heard him take a call at mid-day on Friday seeking a 4-person crew for a new assignment starting at 5 a.m. on Monday. Kris told the customer confidently that we would deliver, and early Monday morning, they had their crew. He also benefits by Sequoia being able to place temporary workers in fields where others cannot.
Most importantly, I can tell that he really values the people that are filling these positions. At the top of the stairs, I can hear Kris coaching a job applicant. "In an interview, you want to present your best self." "For this job, you'll need to have gloves and ear protection…do you have those?" "You can do this."
At Sequoia, we screen every person we send out, meeting them in person. We measure ourselves on customer service. When I listen to Kris, I am proud of our team and I know we're living up to the promise of our motto: The right person, every time, guaranteed.