Why Location Matters to Job Seekers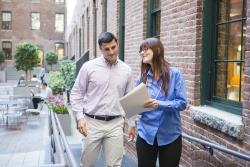 From rising gas prices to the atmosphere of your company's street, location is a major factor for job seekers. It affects what positions they apply for and what job offers they ultimately choose. Knowing what factors, like location, are attractive to high-priority talent will help you create a compelling job offer and advertise your opening more effectively.
Younger Job Seekers Attracted to Businesses Downtown
A majority of millennials (those born between roughly 1980-2000) want to live in urban areas, not the suburbs, according to Human Resource Executive Online. The attraction to downtown areas has much to do with the short commute, that there's always something going on, and being a part of a distinct area. Even in smaller communities like Humboldt County, businesses in downtown Eureka and Arcata provide this type of atmosphere.
Companies seek out this generation of job seekers specifically because they are likely to bring in fresh ideas and often have a firm grasp on ever-changing technologies. If your business is located downtown, highlight this aspect in your job listings to increase your chance of attracting millennials to apply. For businesses not located in urban areas, highlight nearby equivalents or other community resources instead.
No One Likes Commuting
Businesses that are centrally located often have an advantage attracting job applicants, so highlight this factor if it applies. If your business isn't located as conveniently, you have a few options:
Provide telecommuting options so your new hire can work from home on one to two days per week.

Offer commuter benefits as part of the package. This is primarily offered in major metropolitan areas but can be adapted to smaller areas.

Highlight public transportation options.

Help your new hire find a living space near the office.
The information provided in this blog is intended for general information purposes only. Readers should seek the help of an HR professional for guidance on specific issues.